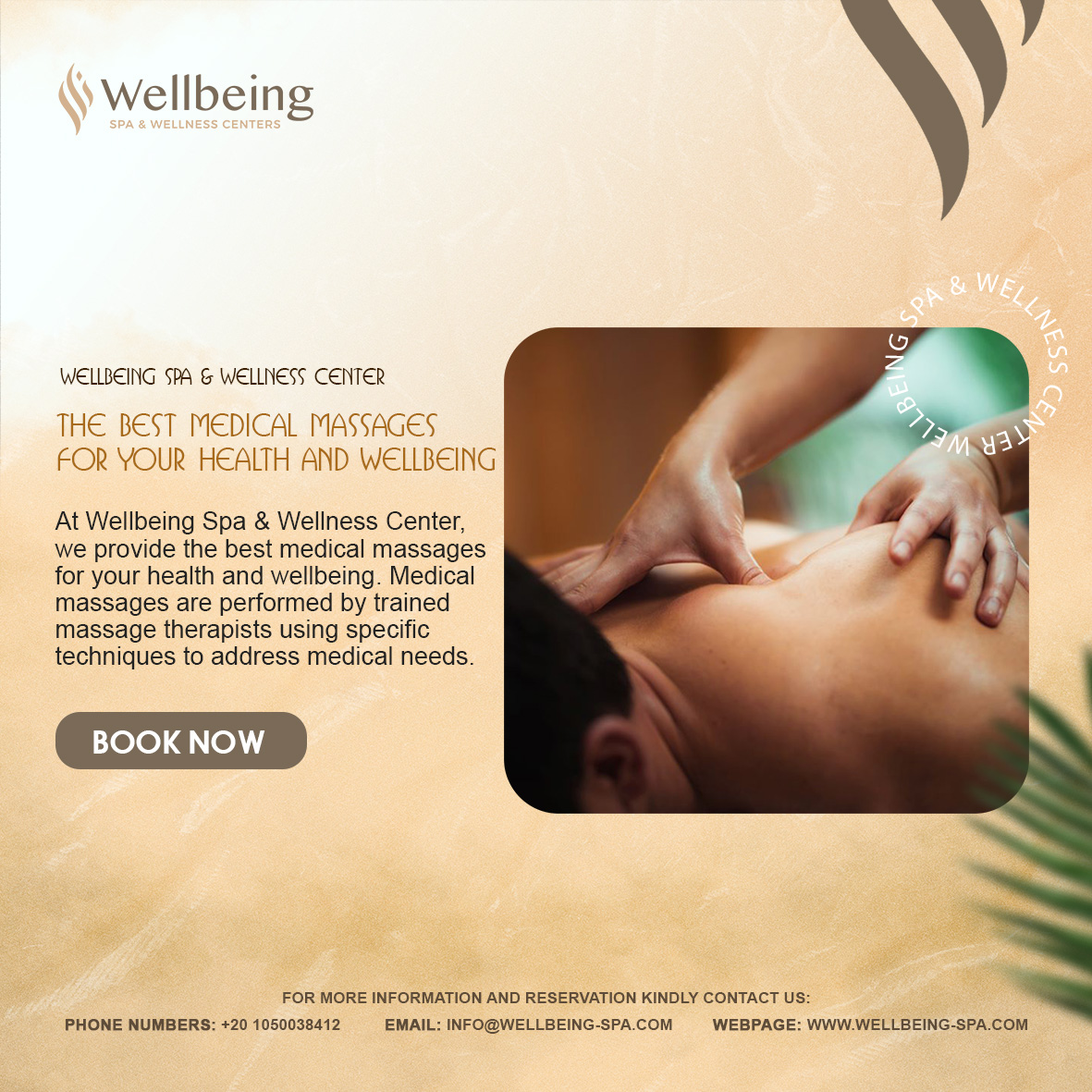 The best medical massages for your health and wellbeing
The best medical massages for your health and wellbeing
At Wellbeing Spa & Wellness Center, we offer highly effective medical massage therapy performed by our expert team of licensed therapists. Medical massage can provide a wide range of benefits for clients with various health concerns. Our dedication to professionalism and client care means we will work hard to help you feel your best.
What is medical massage?
Medical massage involves specific massage techniques used to support healing and aid in managing health conditions. The main goals of medical massage are to relieve pain, improve joint mobility and range of motion, decrease muscle spasms, reduce stress, promote relaxation, and aid in recovery from injury or surgery.
Medical massage therapists undergo extensive training in anatomy, physiology and pathology to learn how to address specific medical needs through massage. The types of massage we offer include:
Deep tissue massage focuses on deeper layers of muscle and connective tissue. It is often used to address chronic tension and pain.
Trigger point massage relieves pain by applying pressure to trigger points, or knots of tense muscle tissue that cause referred pain.
Neuromuscular massage eases muscle spasms and tension through gentle manipulation of nerves and soft tissues.
Lymphatic drainage massage promotes lymph flow to reduce swelling and ease symptoms of conditions like chronic fatigue syndrome.
Swedish massage uses long strokes, kneading and friction to relax the body and ease tension.
What conditions does medical massage help?
Our medical massage therapies can benefit a wide range of medical issues, including:
Back, neck and shoulder pain • Carpal tunnel syndrome
Headaches and migraines • Arthritis
Muscle strains and sprains • Fibromyalgia
Post surgical recovery • Sciatica
Chronic pain • Repetitive strain injuries
Our professional team
At Wellbeing Spa & Wellness Center, our professional team includes massage therapists, instructors and licensed estheticians. Each member of our team is committed to:
Providing customized massage based on your unique needs and goals.
Explaining expected results and answering all your questions in a clear, professional manner.
Creating a calm, hygienic and private environment for you to fully relax and benefit from massage.
Using only the highest quality lotions and equipment.
Staying up-to-date on the latest massage techniques through continuing education.
Booking your medical massage session
To get started, simply give us a call or visit our website to book an introductory medical massage session.
During your first appointment, our therapist will discuss your health history and goals to determine the best massage approach for your needs. Subsequent sessions will be tailored specifically for you based on your response to previous massages.
We look forward to helping you reduce pain, accelerate healing and feel your best through the power of medical massage therapy. Give us a call today to schedule your first appointment – we are here to help you achieve optimal health and wellbeing.